200h 9 Month Teacher Training
To:
All those who are interested in deepening in the essence of yoga and in the practice of its personal enrichment, as for its later application in the teaching of yoga.
Certified:
Our hot yoga teacher training courses are certified by the Yoga Alliance. When the course is completed you will hold a 200h certified yoga instructor license and be able to teach Hot Vinyasa, and regular temperature yoga in studios anywhere in the world.
Next training:
Oct 2020 – Jun 2021 (English)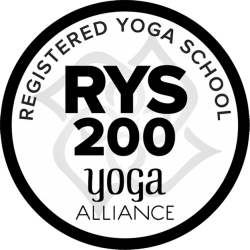 SCHEDULE
The course will be held one weekend a month from 7:00h  to 18:00h on Saturday and Sunday:
Oct 25
Nov 14, 15
Dec 12, 13
Jan 16, 17
Feb 13
March 13, 14
April 10, 11
May 8, 9
June 19, 20
Included: 
Unlimited yoga at the studio from when the training begins to when the training ends (Oct 2020-Jun 2021). You will save 900€ from the bonus of unlimited classes for 9 months.
Manuals, notebooks and 200h certified yoga instructor license by Yoga Alliance
Possibility to become an apprentice teacher at the studio and also teach beach yoga classes.
TOPICS INCLUDE
Philosophy… 8 limbs of Ashtanga Yoga
Yoga history & the different paths of yoga
Asana, Pranayama and Meditation
Preventing injuries
Teaching skills
Introduction to basic adjustments
Structuring and Sequencing
Anatomy and physiology
Chakras
Basic principles of Ayurveda
Different styles of yoga including Yin, Restorative, Prenatal, Acro, etc.
Vedic Chanting and mantras
Establishing yourself as a yoga teachers
Business & Ethics
Practise teaching classes
The courses are held at the Yogalinda studio in Vila Olímpica of Barcelona.
Contact Heather: +34 665745405 for more information.

We are excited to announce 2 – €1000 scholarships to Hot Yoga Academy's 200hr hot yoga teacher trainings one lucky yogi for the 9 month teacher training from Oct 2020 – June 2021 and another scholarship for the Nov intensive hot yoga teacher training! Community and Practice are 2 Pillars of Hot Yoga Academy so for this scholarship we are looking for two students who:
Show excellent service to their community
A steady commitment to learning
Are in financial need 
Any student is eligible to win these scholarships. We ask that in order to participate, you share with us how you exemplify the 3 qualities above and which course you are interested in attending and send us a private email heather@yogalinda.es. Also we ask that you promote the scholarship on your personal Instagram or Facebook accounts.  
The winners will be contacted via email on August 1st.