200h 8 Month Hot Yoga Teacher Training
To:
All those who are interested in deepening in the essence of yoga and in the practice of its personal enrichment, as for its later application in the teaching of yoga.
Certified:
Our hot yoga teacher training courses are certified by the Yoga Alliance. When the course is completed you will hold a 200h certified yoga instructor license and be able to teach Hot Vinyasa, and regular temperature yoga in studios anywhere in the world.
Next training:
October 2023

Location: Barcelona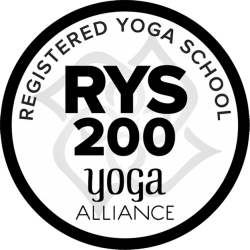 SCHEDULE
The course will be held one weekend a month from 8:00h  to 18:00h on Saturday and Sunday.
Included:
Manuals, notebooks and 200h certified yoga instructor license by Yoga Alliance
TOPICS INCLUDE
Philosophy… 8 limbs of Ashtanga Yoga
Yoga history & the different paths of yoga
Asana, Pranayama and Meditation
Preventing injuries
Teaching skills
Introduction to basic adjustments
Structuring and Sequencing
Anatomy and physiology
Chakras
Basic principles of Ayurveda
Different styles of yoga including Yin, Restorative, Prenatal, Acro, etc.
Vedic Chanting and mantras
Establishing yourself as a yoga teachers
Business & Ethics
Practise teaching classes
Contact Heather: +34 665745405 for more information.
ADVANTAGES OF THE TRAINING