Certified:
This course is a 30hr training course completed over 4 days. The qualification will be recognised worldwide.
Next training:
TBA
Location: Barcelona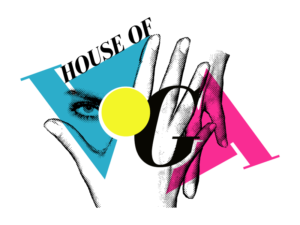 If you love yoga, but secretly wish it was more upbeat; or been inspired by 'vogueing' (circa 1980's New York) but it's a bit out-there for you, VOGA offers an avant-garde and transformational new way to workout; inspired by art, fashion, music, film and wellbeing.
VOGA POWER – A strong soundtrack of diva classics to allow you to power your moves with strength, belief and confidence. Expect some challenging balancing poses and twists so set your intentions high. The Grace Jones flow will make an appearance here.
MODULES COVERED
Influences/ Inspiration of House of VOGA – 1 hour 
Training VOGA Power – 10 hours
VOGA as a Business/ Marketing – 2 hour
Instructing VOGA Power – 1 hour
Self Practise VOGA Power – 6 hours 
Group Self Practise – 10 hours
HOUSE OF VOGA is the brainchild of Juliet Murrell, a successful set designer in the fashion, film and design industry who qualified as a yoga instructor in 2011 to restore her natural energy levels, which had been depleted by post-viral chronic fatigue. Identifying a niche for a more expressive, energetic style of yoga, Juliet went on to create VOGA, a stretching and posing routine set to an iconic 80s beat, inspired by art, fashion, music, film and wellbeing.
"Having known first-hand how it feels to suffer but fully recover from depleted energy levels with post viral chronique fatigue in my teens, my main priority since has been to cultivate energy and help others prioritise health, wellbeing and a zest for life. I created VOGA after the illuminating moment that life can be everything you want it to be. Free your mind, combine your passions."
Juliet has been practising yoga for the last 15 years and trained in Sivananda Amboli Ashram, India, 2011. Responding to her city environment and East London living, Juliet expanded her music-led yoga classes to include a more expressive form of yoga, creating this new discipline, VOGA. She believes in stirasukhasana – the balance between effort and pleasure in everything we do. Embrace the good vibes. Go with the flow. There's MORE than nothing to it. She created VOGA to help others really connect to the physicality of the body through breath, movement and music and make your fit night out a social and memorable experience.
The HOUSE OF VOGA business model has grown an exciting idea, to a fully trademarked concept with 10 instructors worldwide; teaching classes in Gyms, Studios, Offices, Fashion Houses, Private Members Clubs, Nightclubs, Hotels (Soho House Worldwide) & Private Villas across the globe. House of VOGA has become a lifestyle brand and a fast-growing community.
HOUSE OF VOGA has received great support from TV and press, where you may have seen the face of HOUSE OF VOGA, Juliet Murrell, on shows such as Sunday Brunch, & Made in Chelsea with features in magazines such as Vogue, Grazia & The Guardian.
If this is something you are interested in please do not hesitate to email us if you require more information or visit the VOGA website for more inspiration.