Business Coaching & Consulting
Do you want to open a business? Do you want to open a yoga studio but are worried it might fail? Do you just want some direction for your business ideas?
Heather is more then eager to help you in the direction you want to go in with her business coaching and consulting services. Heather feels such joy in helping others make their dreams come true and is always open and honest about how she opened her yoga studio; the ups and downs, what worked for her and what didn't work too! 
Heather has a degree in business, specializing in marketing and has spent her whole career in various positions of sales from selling food products to grocery stores and pharmacies, selling advertising space in magazines, helping a yoga clothing and accessories brand, to owning a yoga studio for 10 years selling yoga trainings, classes and retreats.  Being a sales person has always been a constant for Heather and is one of the reasons most new companies fail.  She wants to share her expertise with you and help you grow your business!
TOPICS THAT HEATHER CAN HELP YOU WITH INCLUDE
Marketing
Confidence & Fears
Increasing client base
Open a gym/yoga studio
Financing
Hiring employees
Retreats
Private yoga teaching
Online teaching
Business plans
Ideas and direction
Heather also runs a fantastic Yoga Teacher Mentorship if you are interested in a more detailed strategy for your business. 
Prices for Business consulting & coaching:
110€ per session (not per hour/consulting only)
Or a pack of 5 sessions for 500€
BREATHWORK & COACHING
Over the years I have found that Active Breathwork (Shamanic Breathing) has been a catalyst in helping me overcome emotional issues such as fear, confidence and trauma.  If we notice in our coaching sessions that breathwork would help you and you want to make it part of your action plan for succeeding your coaching objectives.  We will find your intention and do a 2hr coaching and breathwork session. 
Price: 200€ per session
CONTACT
Mobile: +34 665 745 405 or heather@hotyoga.academy
TESTIMONIAL
"Heather was my mentor and coach and I have nothing but positive words to say about her. She was always very supportive throughout our process and was very clear in her advice and never failed to follow up. Thanks to Heather I am more confident about my own coaching business and I am also very thankful for the opportunities she gave me to teach in her center. Heather will give you great ideas, help you believe in yourself and connect with the extra confidence needed to "just do things," and make them happen".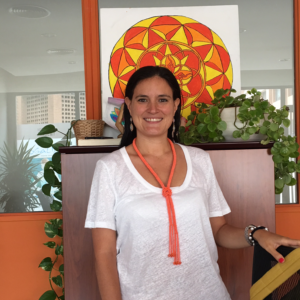 Monika Varela, In-corporate Trainer specialised in Mindfulness, Neuromentoring, Emotional Education & Communication Skills.
Dos and don'ts for renting business space in Barcelona:
Heather Anderson stands in front of her hard-won business space, where she opened her Yogalinda hot yoga studio. Based on her own experiences of trying to find a space for her new yoga studio in Barcelona, Heather Anderson tells us about some of the pitfalls of looking for business premises in Barcelona, along with suggestions for success… read more.
Marketing & Sales in Uncertain Times:
We are uncertain when the economy will be back to normal so what does that mean to your sales and marketing efforts?
Some businesses like Zoom, Supermarkets and delivery services are seeing an increase in sales and volume while others are seeing no sales as they are a restaurant or hotel that has to close…read more.