Diary of Hot Vinyasa Yoga Teacher Training: Week 2 of 4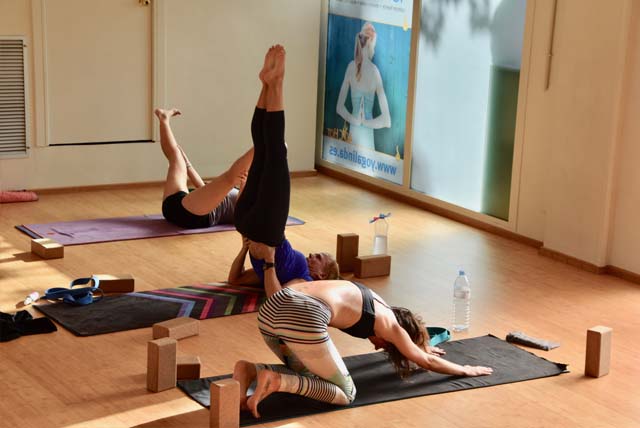 November 8th, 2015
We are halfway through the 200h – Hot Vinyasa Yoga Teacher Training  now, and I can feel the positive effects of the training 10 fold to the first week. I have noticed significant changes in my physical strength and the strength of my fellow yogis. In two short weeks, we have made leaps and bounds in our practices that many have been striving years to attain. Practicing yoga six days a week surely accounts for a portion of this, but knowledge, discipline, and enlightenment account for the vast majority of improvements – at least in my case. I now realize that yoga is so much more than asana practice and "Ommmmms." It is a lifestyle, a mindset, and a way to constantly push to get closer to our truth and to find the happiness that lives within us. 
Knowing yoga reaches far beyond the studio or the pages of a book; to know yoga is to know the world and ourselves in a different way. I have noticed other huge changes in myself as I continue this journey, including the profound strength to fearlessly seek out and follow MY truth and MY PATH.
In the past two weeks, I have come to realize that I have no idea what I'm going to do with my life following the conclusion of the course – even more surprising is that I am 100% ok with this. If you knew the control freak that I am and have ever discussed the "next move" with me, you'd know that I have had my next ten steps planned for years now. This is the only time in my life since childhood that I remember not having a plan. Even as a 10 year old, I was sure that in 8 short years I was headed to college at Harvard Law to become a criminal defense attorney. Looking back now, I know my plans have never really been MY plans. I know what you may be thinking. No, my parents never restricted my dreams or told me what career path I had to follow or what school I needed to go to. But there was always pressure to live the "dream." The dream for my father means having financial security, owning your home without a mortgage payment, and having enough investments to retire early. This is what I want too, right?
Yoga and this 200h – Hot Vinyasa Yoga Teacher Training have shown me something I had been blind to before – I don't need those things to be happy or to live the "dream." For God's sake man, I am living the dream! I am 23, living in Barcelona, pursuing my passions, and learning about myself – what more could I want? I have begun to realize that every day can be another day living the dream if I can truly acknowledge what it is that makes me feel happy and fulfilled – regardless of the pay grade. Living your truth is far more rewarding than living someone else's dream.
Already I am one degree and $16k in debt in my studies. The plan has always been four more years, a doctorate, and not to mention some hefty student loans to accumulate before I can say I'm done. But why? Now let's get one thing straight here, I am not giving up on higher education and graduate school because of my newfound insight. Instead, I am taking this insight, enlightenment, and self-discovery, and redirecting my efforts into finding out what career path will truly make me happy. I am letting the universe take the reigns until I have a better idea of what that may be. The only force I am letting influence my path at this point, is the divine force. Some call it god, some call it destiny or fate, and some call it coincidence. With some fear in my heart and worry in my head, I am relinquishing my controlled life to the most unpredictable force of nature there is.
That is what week two was about for me: letting go. Letting go of my preconceived notions of what I "should" do. Letting go of my desire to control the outcomes in my life. Letting go of the baggage I have been holding on to for so many years. Letting go of other people's truths so that I may find my own. Letting go of a lot of tears and turmoil in the middle of asana practice. And letting go of those people, things, and habits that no longer serve me. It may seem crazy to believe that I have experienced all of these revelations and resolutions in a mere two weeks, but you cannot discount the immense effect this training can have on a person. I am better than I have been in many years; happier, healthier, more confident, more free, more successful, and more at peace. Halfway through and more joyful than ever, I can only imagine what the next two weeks will bring me.
Bring on week three!
Namaste.
Meagan Klein – New Hot Vinyasa Yoga Teacher
Read more about this Hot Vinyasa Yoga Teacher's Training experience and discover what happened in week 3 of 4.