Third Week - Weekly diary of a 200-hour Hot Yoga Teacher Training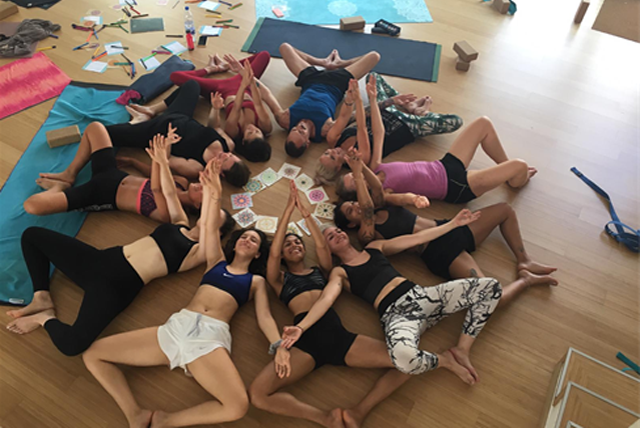 The 3rd week at the 200h- Hot Yoga Teacher Training surprised us with many guest teachers from abroad. Several classes with Morgan showed us an unusual type of yoga called Synergy Yoga, which had a more spinal movement to the asanas, completely different then what we had been learning up until then.  I learnt that there is no right or wrong perception both in yoga and life, the way Morgan was teaching was so different and sometimes the opposite of what I have always been taught.
The Synergy classes made my muscles work in a way I have never felt before.  
Morgan gave us valuable advice, such as: muscle contraction is not necessary all the time, in order to improve the strength and save some life for muscles it is better to engage them during activity when they are needed but relax them when they are not necessary. Most of the time we keep muscles unnecessarily engaged subconsciously; from there I have learnt another important thing the awareness of my actions. Morgan also taught us that in order to keep joints stable and healthy we should contract muscles around the joints and correct alignment is not the most important aspect but how we consciously protect joints with the help of muscle contraction. I found Morgan's classes really informative and beneficial as well as pleasant on the body.
Another wonderful guest was Mike from the UK; he gave an interesting and very useful lecture on Ayurveda, correct diet based on your dosha.  We completed a long and accurate survey to identify which of the three doshas best fit our style of life, body type and preferences they were, Vata, Pitta or Kapha. At the time, I thought that I mostly relating to the Vata type of energy, however now I feel that it varies between Vata and Pitta, depending on the day or time of year. Ayurveda states that our doshas can change all the time, there is a saying that we are all born as Kapha and leave the world as Vata. The atmosphere in a class was really cozy as there was a summer storm outside, we were sitting and talking in a circle with Ayurvedic tea made by Mike.
Mike and Monika were holding meditations on the third week. We learned different methods of meditations, and I enjoyed Yin Yoga and Yoga Nidra as well.   I tried yoga nidra for the first time in the hot yoga teacher training.  Yoga nidra is defined as being in between sleeping and the state of consciousness.  I heard every single word that Lezanne said, however it felt like a light sleep and afterwards I felt refreshed like I had a long nap. 
The last day Lezanne was at the studio we sang powerful Mantras it felt like a tingle sensation or electricity going through and warming my body. Lezanne also taught us how to draw mandalas, which was very meditative and fun. Together we prepared a goodbye gift by writing all best wishes on a postcard. It was a sad seeing Lezanne leave early but we were grateful for all the time we spent together with Lezanne.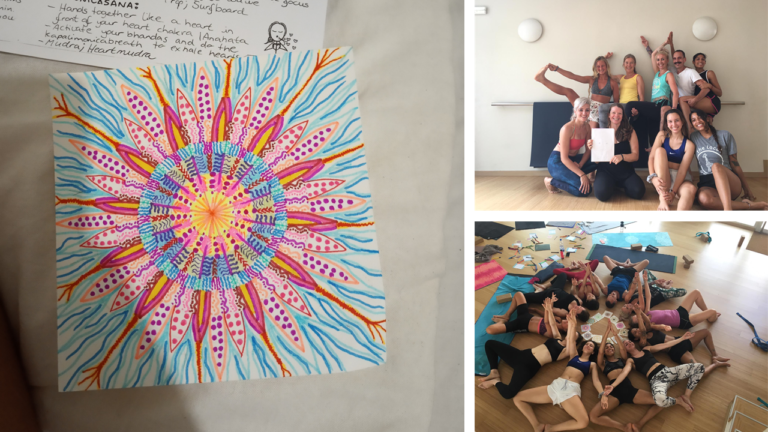 Out of all asanas I am mostly interested in hand balancing asanas, maybe because they are challenging and look impressive but once you get fully into the asana you feel very proud of achieving them. Another thing that I loved about the third week was the hand balancing class with Marcel. Earlier in the course we had a 3hr inversion workshop with Lezanne, this time it was the full 2 hr. session of hand balancing poses. I was happy that Marcel let us discover some new variations of hand balancing.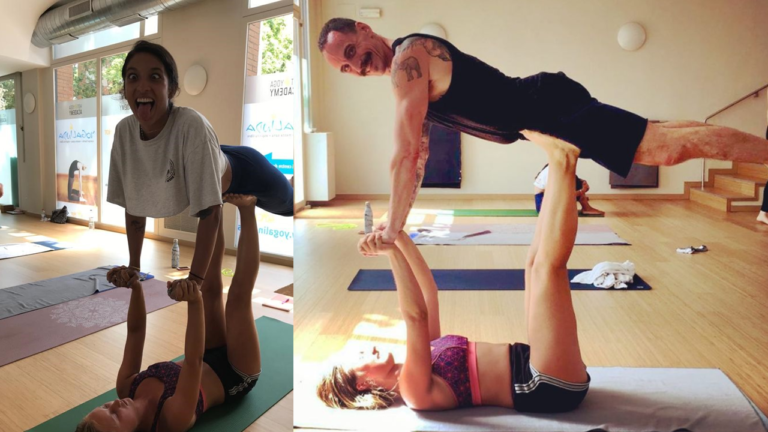 The third week was mostly oriented towards the preparation for final exams. Everyone prepared and taught their 20 minutes sequence as a mini class to each other. The most challenging part was fitting the sequence into the timeframe, balancing the intensity, explaining asanas in English and notifying when to breath in and breath out. Later we had a great time with creative sequencing games with Heather.
One of the funniest but useful classes was Prenatal Yoga. The asanas were a little challenging and fun to do, even though Prenatal Yoga was light, I could feel my muscles working and stretching. There is one secret that made us laugh during Prenatal Yoga class a lot but I will let you find that out for yourself if you decide to the 200hr Hot Yoga Teacher Training.
During the weekend we had another opportunity to spend time with Marcel (Instagram yoga influencer) and take professional photos by the beach, I also went hiking and saw a beautiful panorama of Barcelona. The rest of the weekend was dedicated for studying and preparing our 1hr sequences for rehearsal and the final exam.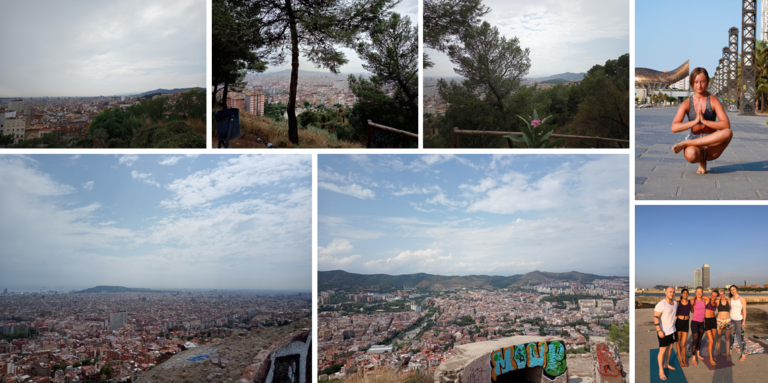 The third week was a little bit more relaxing physically as a break before our final classes and overall I think it brings back the fondest memories to me.
With Love,
Milda